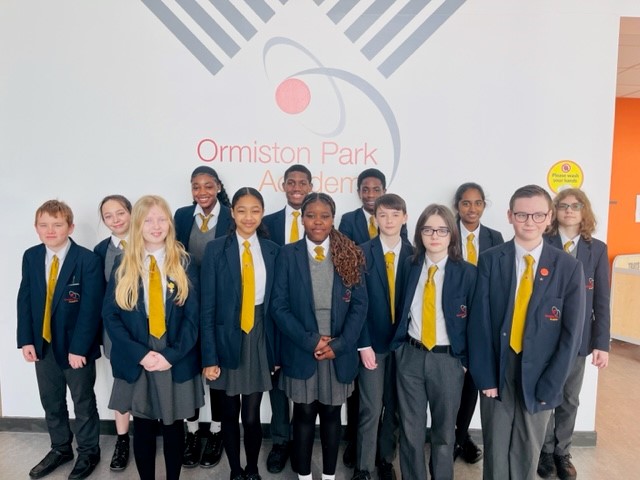 PARK LIFE represent the Student Voice of Ormiston Park Academy. Students from all year groups can apply to join PARK LIFE and take an active role in academy life, there are approximately 25- 30 members across the school, each member is identified by their gold tie.
PARK LIFE strive to uphold the core values and ethos of OPA and support with personal development. They help to build confidence and prepare young people for roles in society, they raise money for charity, support with awareness days across the school year. PARK LIFE feed into the OAT 'National' student voice, two of our members attend student voice meetings for students across the entire Ormiston Trust.
PARK LIFE give all students of OPA a voice, experiment with new ideas, find solutions and work together to make ORMISTON PARK ACADEMY the best it can be.
Make PARK LIFE better
Person Specification for PARK LIFE representative
This role would suit a student who is:
•Enthusiastic about improving the quality of education and experience they receive at Ormiston park academy.
•Confident in speaking to people from different backgrounds and expertise.
•Motivated to create positive change.
•Proactive and committed to working as part of a team.
Job Title: Student Voice Representative
PARK LIFE representative
Purpose of Job
•To represent the views of all students in Ormiston Park academy
•To continuously improve the student learning experience in partnership by helping create solutions to problems and make your school a better place.
•To provide both positive and negative feedback at Park life meetings.
•To act as a communication channel between staff, students and the senior leadership team.
Main duties and responsibilities
•To attend, lead or contribute at all PARK LIFE meetings
•To gather the opinions of all students by leading assemblies, visiting forms, providing a suggestion box.
•Talk to staff and students about student concerns and develop solutions to improve these.
•Attend school events such as parents evenings, open evenings etc
•Meeting and greeting visitors to the school- conducting tours
Park life meetings are relatively informal meetings of students and teaching staff who meet to discuss student-led agendas on matters related to PARK LIFE inside and outside the classroom. . Student Voice is the decision making body of Ormiston Park and the forum for students to voice their concerns