A school basketball programme for dedicated and passionate student athletes
The Ormiston Park Academy Basketball Excellence Programme (OPABEP) mirrors the intensity and schedule of a US collegiate programme. OPABEP has a balance of high expectation academic tuition, excellent pastoral support, on-court expert instruction and a challenging and appropriate competition schedule which will lead to high level performance for male and female student athletes.OPABEP is led by ex-professional and national team player, Head Coach, Diana NaydenovaGoryanova. The programme is free to all Ormiston Park Academy students.
OPABEP focuses on position-specific instruction as well as team dynamics, a full and demanding competitive schedule, year-round training and development and frequent evaluation for players and their families regarding their progress both in school and on the basketball court.
We offer opportunities for all within the programme, from beginner to elite, including Junior (Year 7), U14 (Year 8 + 9), U16 (Y10 + 11) and pathways to clubs, leading to National Team level.
OPABEP's overall structure both supports and challenges individuals while providing them with a platform to achieve their goals on and off the court. The basketball programme works in conjunction with the student's academic timetable, ensuring all aspects of development are given equal priority. Team practices will take place before and after the school day with specific individual sessions scheduled within the school timetable. Intensive training camps will take place during the school holidays.
The programme offers support to student-athletes at various levels in their development and secondary school playing careers leading to Academy Sixth Form Programmes, Division 1, BBL and WBBL teams, including access to European and US scholarship pathways, where appropriate. Individual athlete programmes will be tailored to the needs of the student and their specific development.
Regular training and development opportunities:
Daily team and skills practice
Camps – OPA / Regional/ National / International
Individual sessions for tailored skill development
Fitness sessions
Nutrition clinics
Mentoring for all players
Competitive opportunities:
Intra and Inter School level
Local, Regional and National competitions and events
Junior NBA
English National Schools
International Tournaments
Monday
Tuesday
Wednesday
Thursday
Friday
7.30 – 8.15
U12 / U14 / U16
Y7, 8, 9, 10, 11
Boys & Girls
U12 / U14 / U16
Y7, 8, 9, 10, 11
Boys & Girls
U12 / U14 / U16
Y7, 8, 9, 10, 11
Boys & Girls
U12 / U14 / U16
Y7, 8, 9, 10, 11
Boys & Girls
No Practice
11.00 – 11.30
Shooting Practice
Shooting Practice
Shooting Practice
Shooting Practice
Shooting Practice
1.30 – 2.00
Shooting Practice
Shooting Practice
Shooting Practice
Shooting Practice
Shooting Practice
3.00 – 5.00
U16
Y10, 11
Boys & Girls
U12 / U14
Y7, 8, 9
Boys & Girls
U16
Y10, 11
Boys & Girls
U12 / U14
Y7, 8, 9
Boys & Girls
Open Session for New Players
U12 / U14 / U16
Y7, 8, 9, 10, 11
Boys & Girls
Head Coach – Diana Naydenova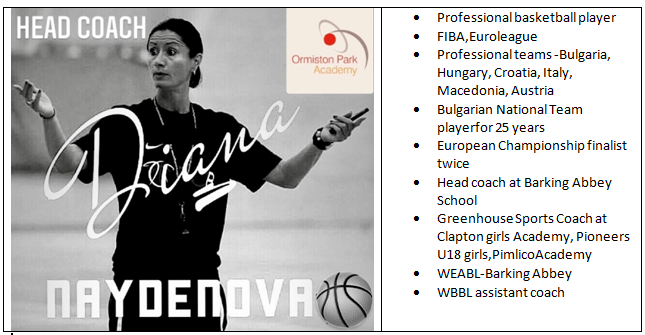 If interested, please contact for more information: [email protected]